We're in Our Señora Eras: And We're Writing a Book!

TL;DR we're writing a book woop woop, click here to be the first to be notified of the book launch.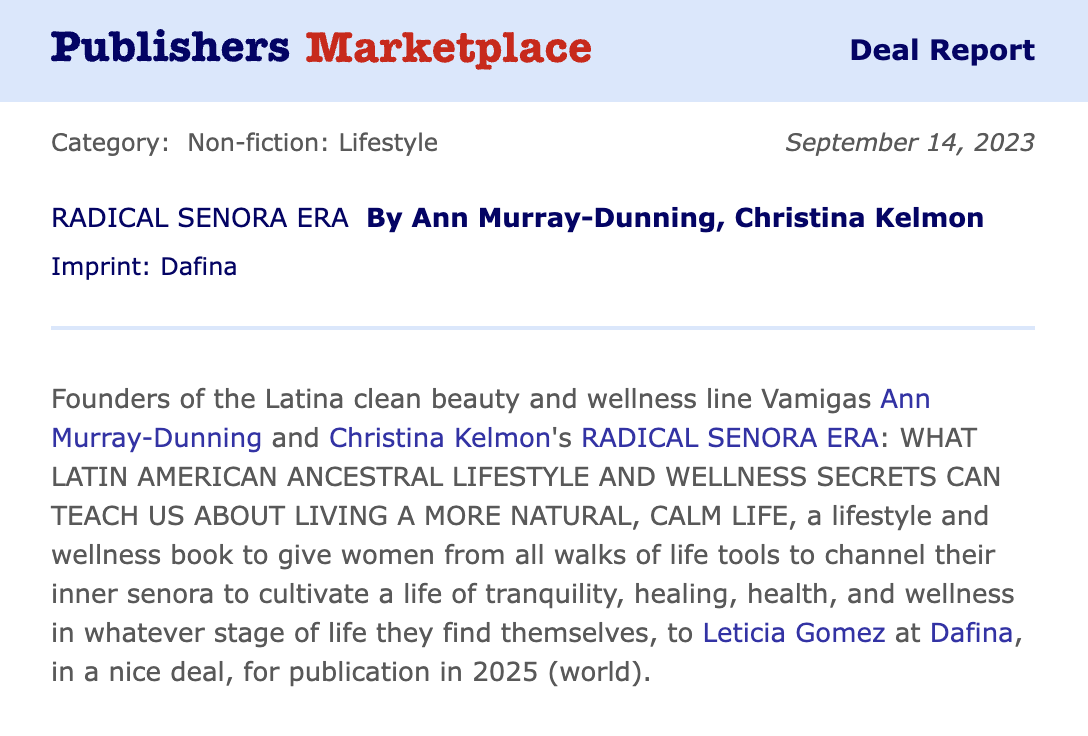 I can't believe I am writing this, but Christina and I are writing a book! We are incredibly proud and honored to partner up with Leticia Gomez at Dafina, an imprint of Kensington Publishing Corp for a book called RADICAL SEÑORA ERA: What Latin American Ancestral Lifestyle and Wellness Secrets Can Teach us about Living a More Natural, Calm Life.
It's a lifestyle and Latina wellness book that gives women from all walks of life all the easy tools needed to channel their inner señora to cultivate a life of tranquility, healing, health and wellness in whatever stage of life they find themselves. And of course we'll get into what is your señora era and the señora life.
Two years after we launched this little Latina clean wellness and Latina skincare brand, we've launched at places like Nordstrom, Target, Whole Foods, JCPenney, ThirteenLune, Anthropologie, won Inc Magazine's Female Founders 200 (2023), Don Julio Tequila's Don Julio Fund, were named Tory Burch Fellows and much more.
We're floored to be launching this next huge project to share with everyone the wellness secrets of our ancestors, señoras meaning, and to honor the señoras in our and your ancestral lines.
Want to be the first to know when the book launches? Enter your email right here, amigas!
If you haven't already follow our adventures over on TikTok. I think we're gonna have a lot of fun together.